Library @ Harbourfront Grand Opening
Code and Build with E-blocks!
In collaboration with the National Library Board (NLB), Roboto Coding Academy presents the first instalment of 'Coding Fun with Zecky'–a free parent-child coding workshop that explores coding and STEAM topics using the latest child-friendly tech toys. The workshop was organised by NLB and took place on the opening day of library@harbourfront, on 12 January 2019.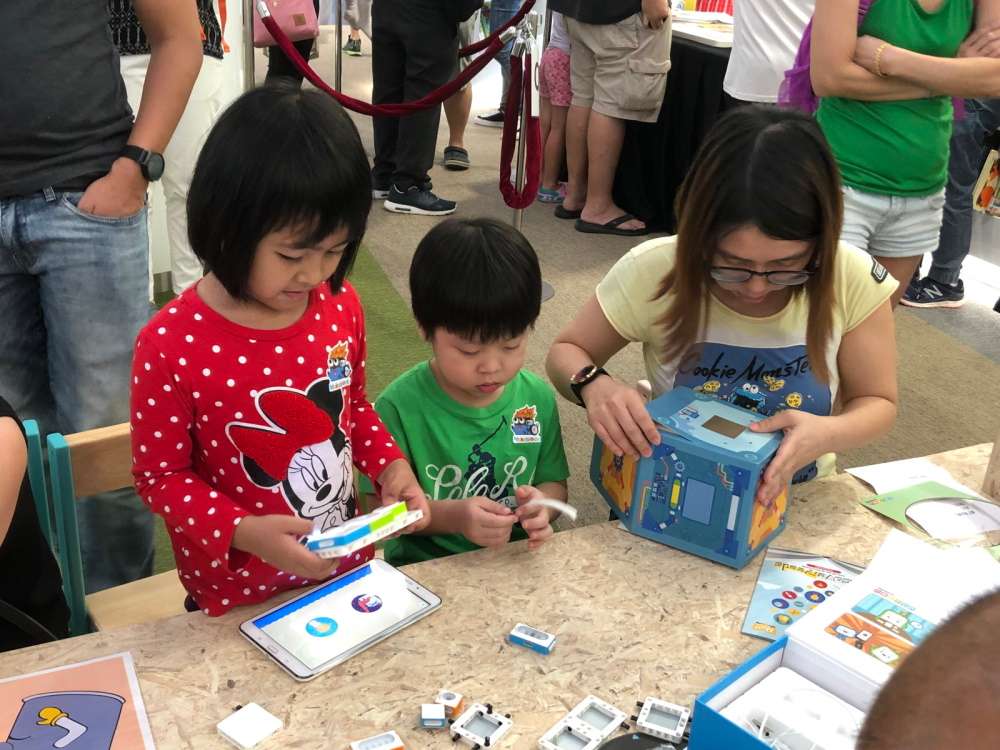 A full house at the library's little maker space, also known as the Tinker Truck
Welcome to the workshop
Housed at the library's Tinker Truck, the well-received workshop saw more than 20 parent-child pairs with the little ones at pre-schooling ages 4 to 7. The Tinker Truck was created for young library-goers to fiddle with educational knickknacks and, in turn, cultivate creativity and problem-solving skills.
And so, we tinker away!
Powered by Makeblock's Neuron–an educational coding and STEAM platform – the workshop had several hands-on activities where both parent and child played with interactive electronic blocks. These Neuron e-blocks can produce sound or light, which makes coding fun and engaging for young children.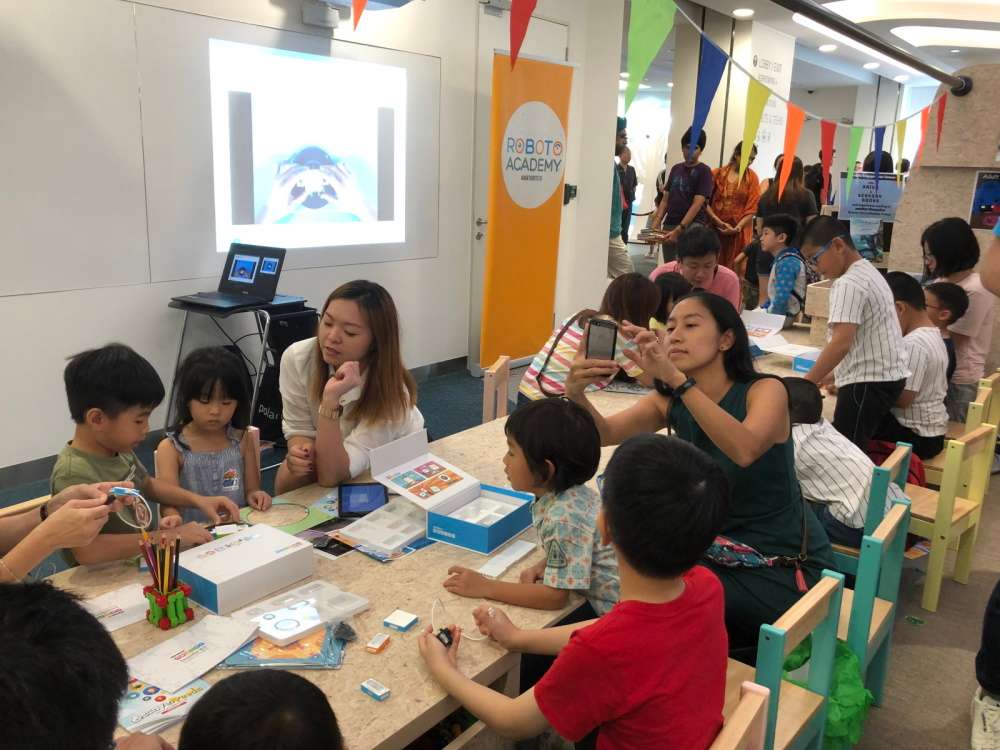 Piecing Neuron e-blocks together to create magic
AOne workshop activity was to design a rabbit "face" on an LED display panel, which is also a type of Neuron e-block. The activity involves some coding on the Makeblock Neuron application, folding a box that holds the "face" and fixing finer bits to put the e-block and box together. At moments like this, parents were swooping in to save their young ones from these challenging tasks while teaching them as they go along. Not only is the workshop a place for kids to learn coding and code for fun, but it is also a fantastic opportunity for some quality parent-child bonding!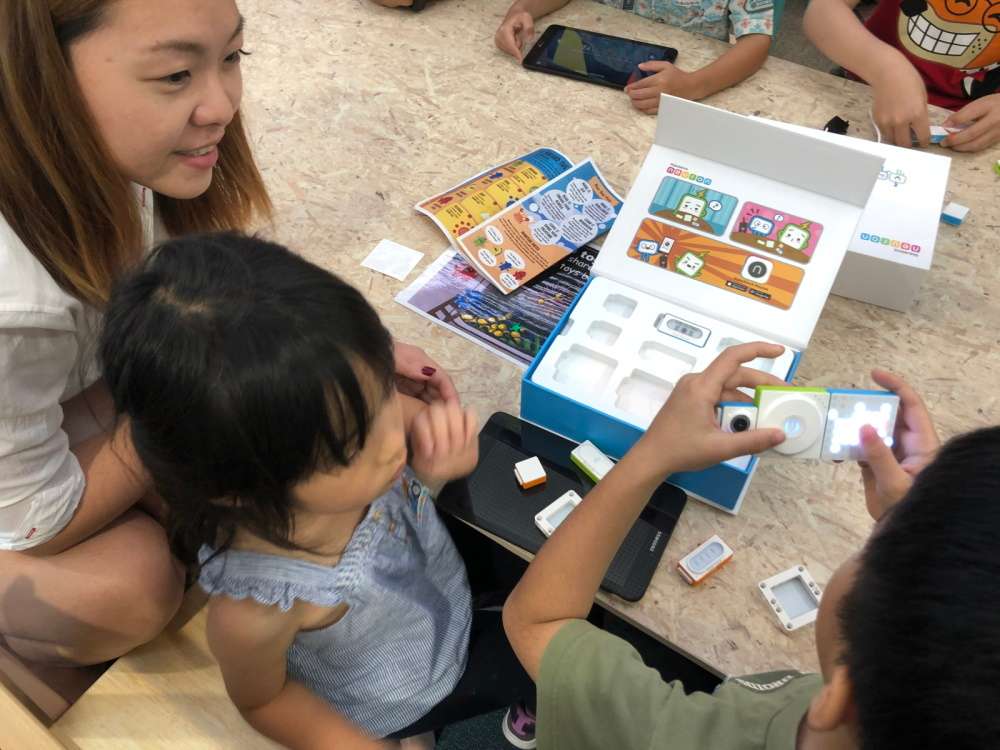 All hands on deck! There's plenty of hands-on learning at the workshop.
Our parent-child participants share their coding experiences
When asked if she enjoyed playing with the blocks and bits, Nadia, a 6-year-old participant accompanied by her father, Zaqy, squeals in excitement, "Yea! I like playing with the sounds!". Edwin, another parent participant, shared that he enrolled his children in the workshop because of their general interest in building things and playing with Lego. "I believe that coding will take [this interest] to the next level", Edwin said.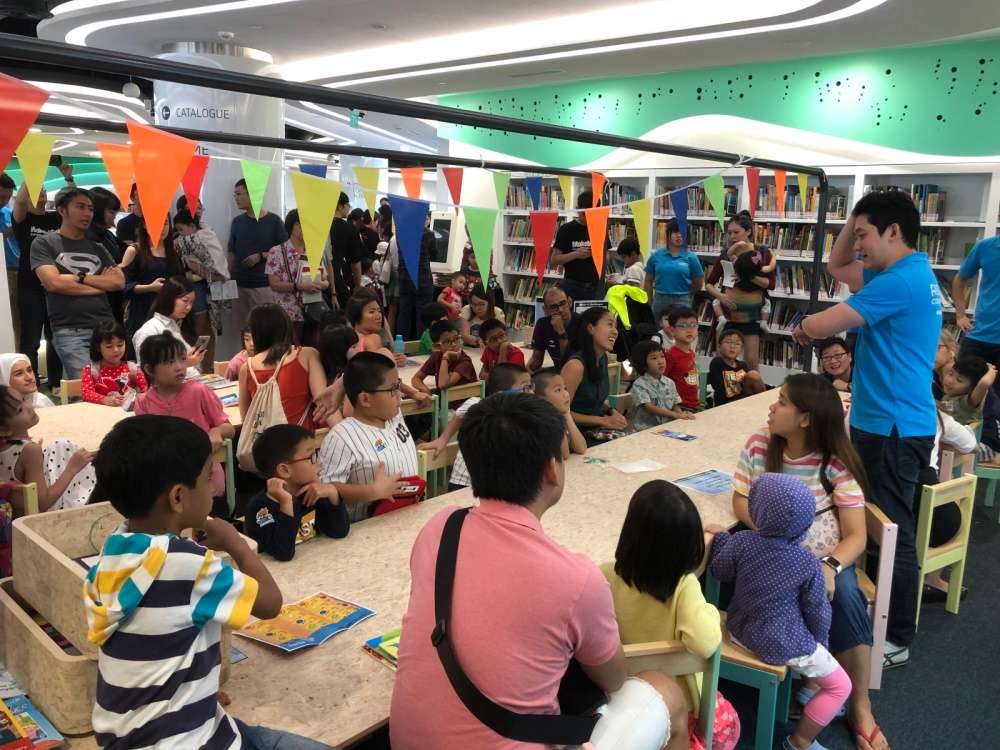 Parent-child teams determined to get the activity done right.
If you're looking for some robot action…
Away from the main highlight of the day, Roboto Coding Academy is also proud to present a display of fun and interactive robots. These demonstration stands are part of the Tech Showcase @ Libraries initiative by NLB and are available for the public to play with until 31 March 2019. If your child enjoys coding and robotics, this is the perfect opportunity to deepen his or her interest!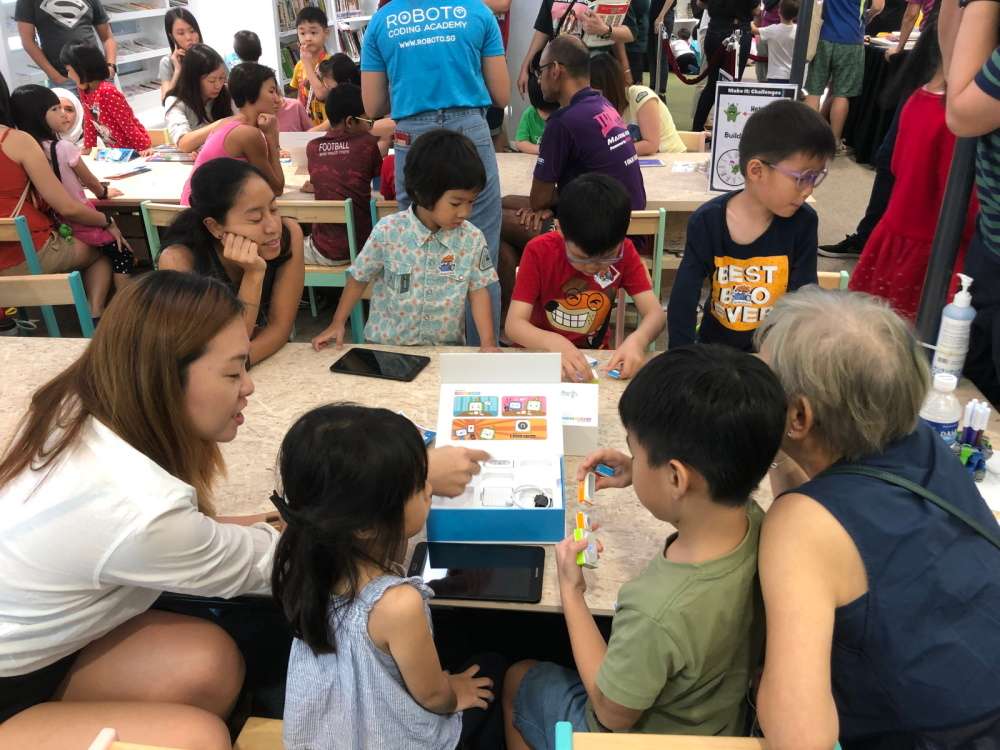 You can interact and play with the robot units on display too!
As the teaching and curriculum champion for Qdee – Hiwonder's educational robotic platform – Roboto Coding Academy had the honour of being the first partner to introduce the product outside of China to curious library visitors in Singapore.

On that Saturday afternoon, the displays drew a thick crowd of curious parents and children intrigued by the responsive robots. One 10-year-old boy, Nithilan, shared that he learns coding and robotics in school and enjoys fixing robots in his spare time, and so found the display to be amusing.

It was truly a lively day at library@harbourfront where the events met with great reception. For this, Roboto Coding Academy would like to thank the National Library Board, Hiwonder and Polaris for their support.
Like what you see? Your kids can code too!
If you've got a kid who would like to learn to code, do check out Genius Coder Programme – our academy's weekly coding lessons for children ages 6 and above. Your kids will be able to learn programming languages, like Scratch and Python, and code with robots such as mBots, Dash and many more!
Photo Gallery