Well done, Genius Coder kids!
The month of May was an exciting time for us at Roboto Coding Academy as we sent five teams of students from our Genius Coder Programme to two coding competitions – The Microthon 2019 and 3D-Tronics Digital Making National Infocomm Competition.
The Microthon 2019
A yearly one-day event that aims to introduce coding to children, The Microthon is where young coding enthusiasts can get acquainted with the latest technologies that hail from different parts of the world.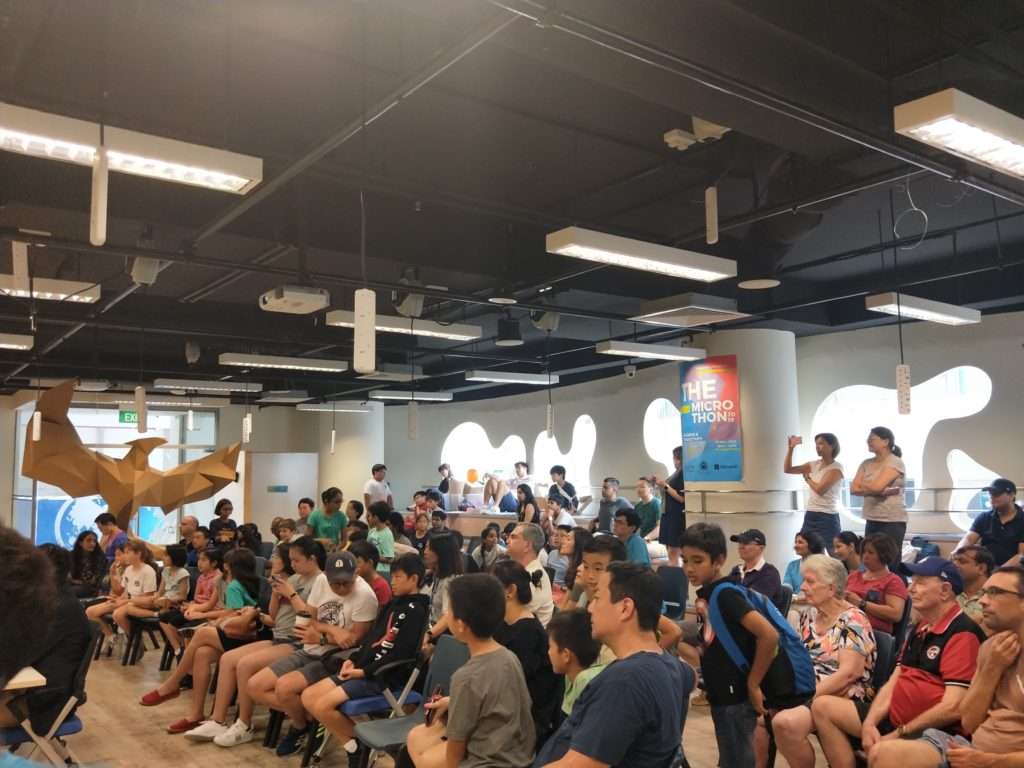 It was quite a family affair at The Microthon 2019.
The Microthon 2019, held on a Saturday afternoon (11 May) at the IDEAS Hub, UWC South East Asia, saw more than 40 children between the ages of 9 and 11 gathered at the event in teams of three or four. The participants were introduced to the tech of the day, Thunkable, a block-based coding platform that allows for the creation of a mobile application.
With the theme of "Wellness and Productivity" in mind, each team had only three hours to create a useful application that would improve wellness and boost productivity. It was a race against the clock!
Representing Roboto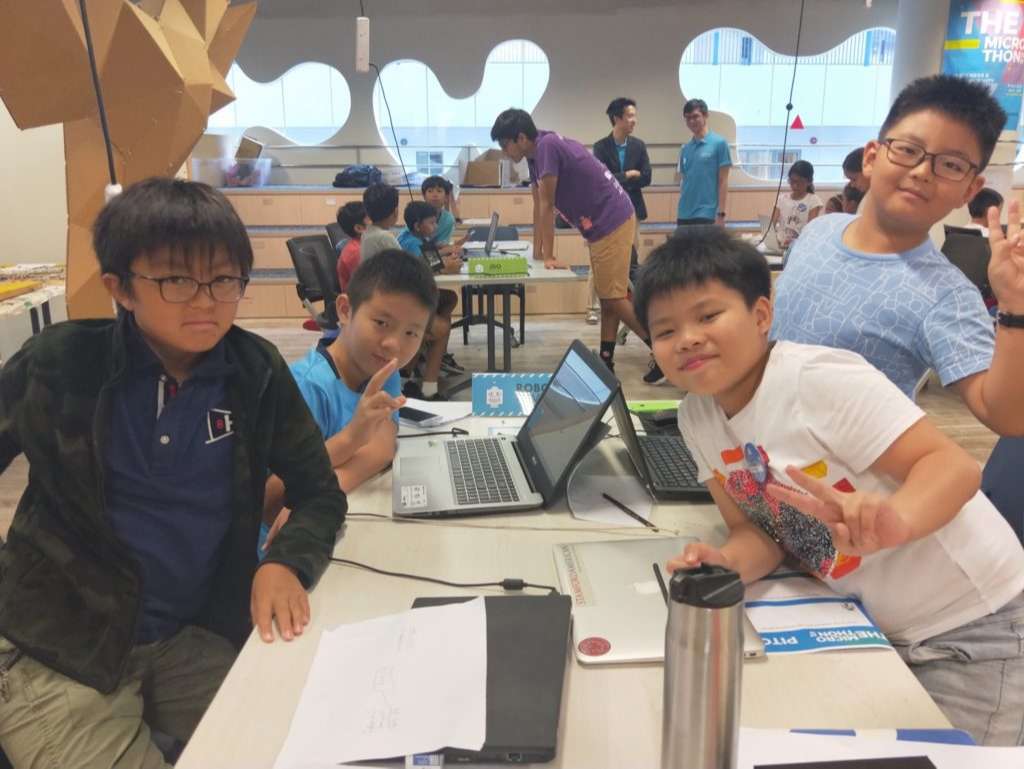 Say hello to team Robotechtives.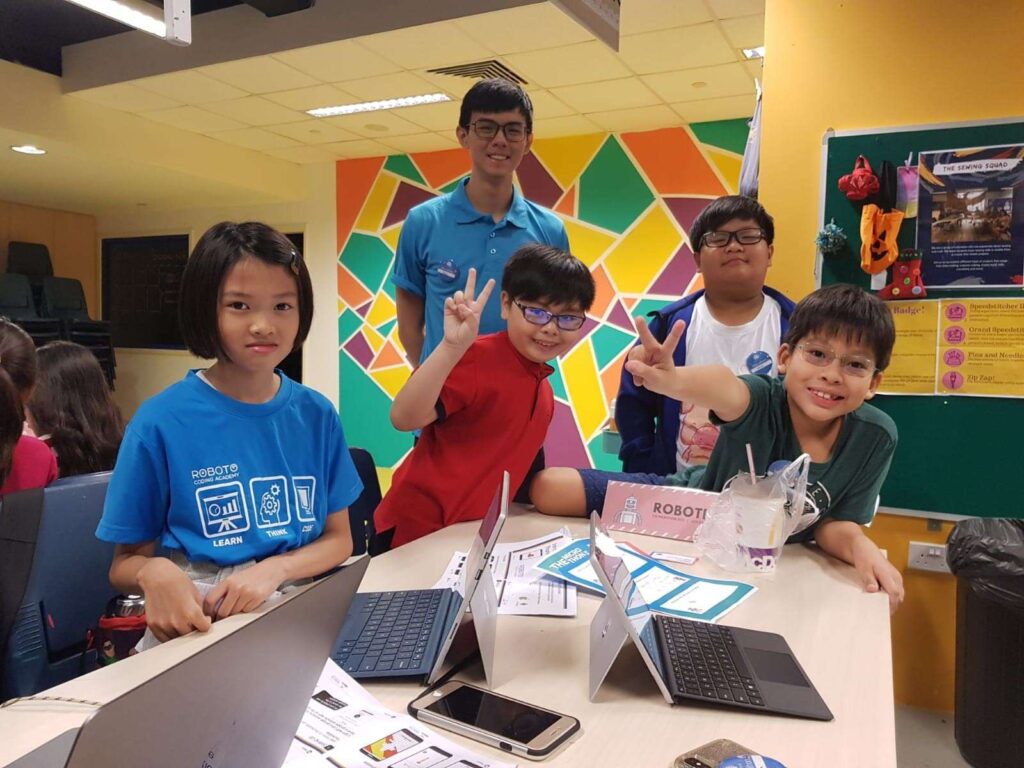 Meet Roboteers, a team that qualified for the Top 8 in the competition!
Roboto Coding Academy was proud to have our two teams, Robotechtives and Roboteers, participate at the event. While team Robotechtives created an app that helps kids cope with bullying, team Roboteers created a stress-relieving app. The app guides users on places they can visit within their country when they are stressed out and serves as a platform where users can review and recommend "stress-relieving spots".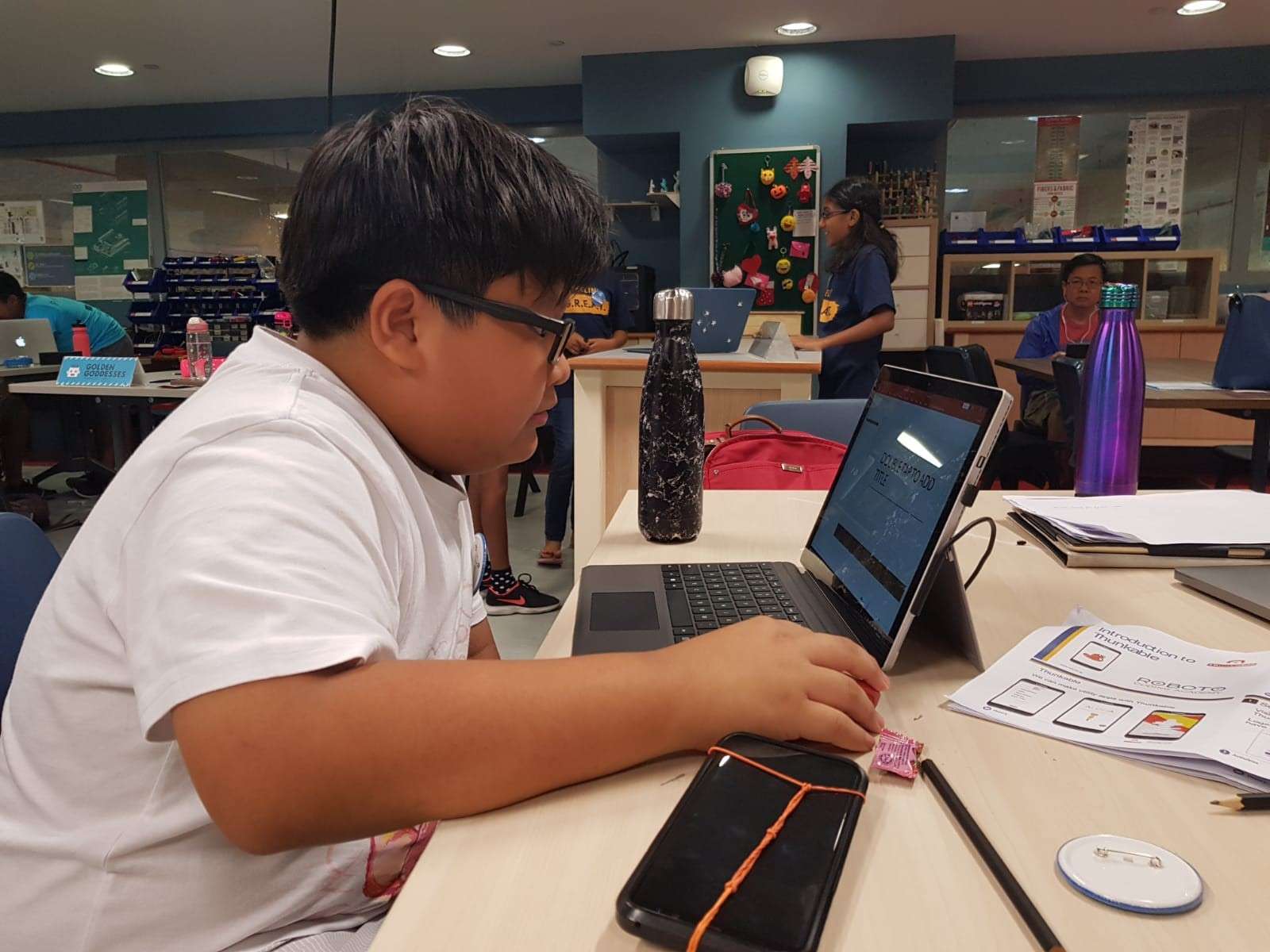 Our coders hard at work.
When asked what inspired the idea for the app, 11-year-old Nash from Roboteer said "…when we were talking about stress, we realised that one of the symptoms is that people don't really go out… They don't really socialise. So, we give them places they can go to relieve stress."
Towards the end of the day, the teams presented their hard work to a panel of judges. And on the panel was our very own Mr Brian Lee, the Co-Founder of Roboto Coding Academy.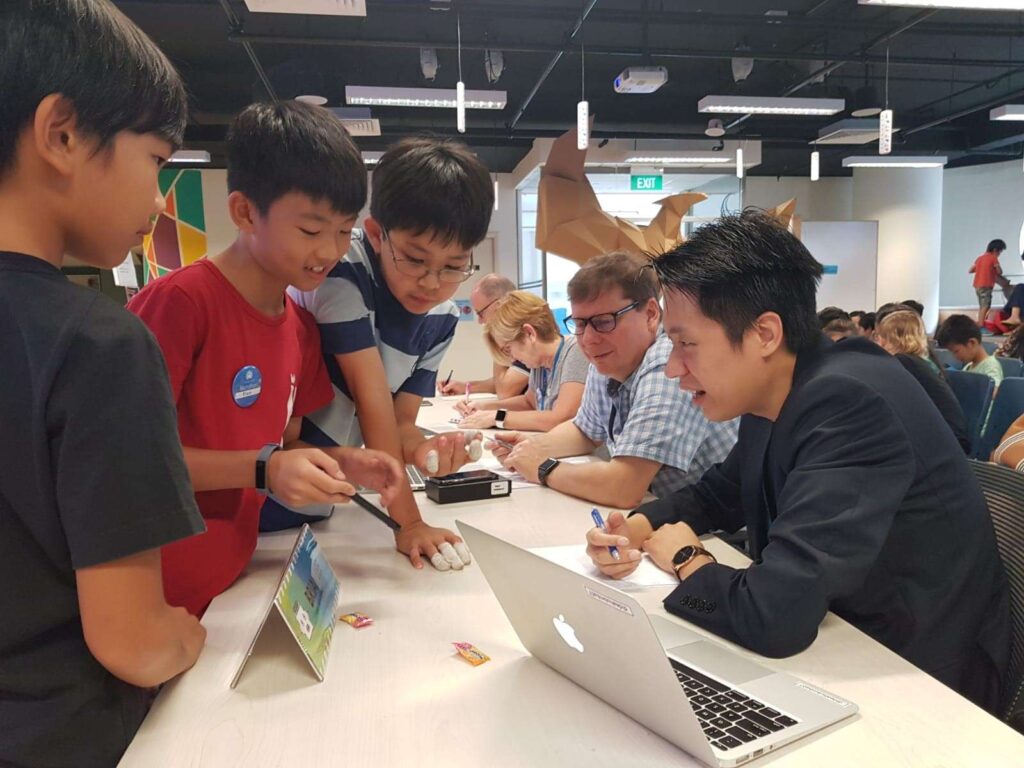 Co-Founder of Roboto Coding Academy, Brian Lee, judging a team's work.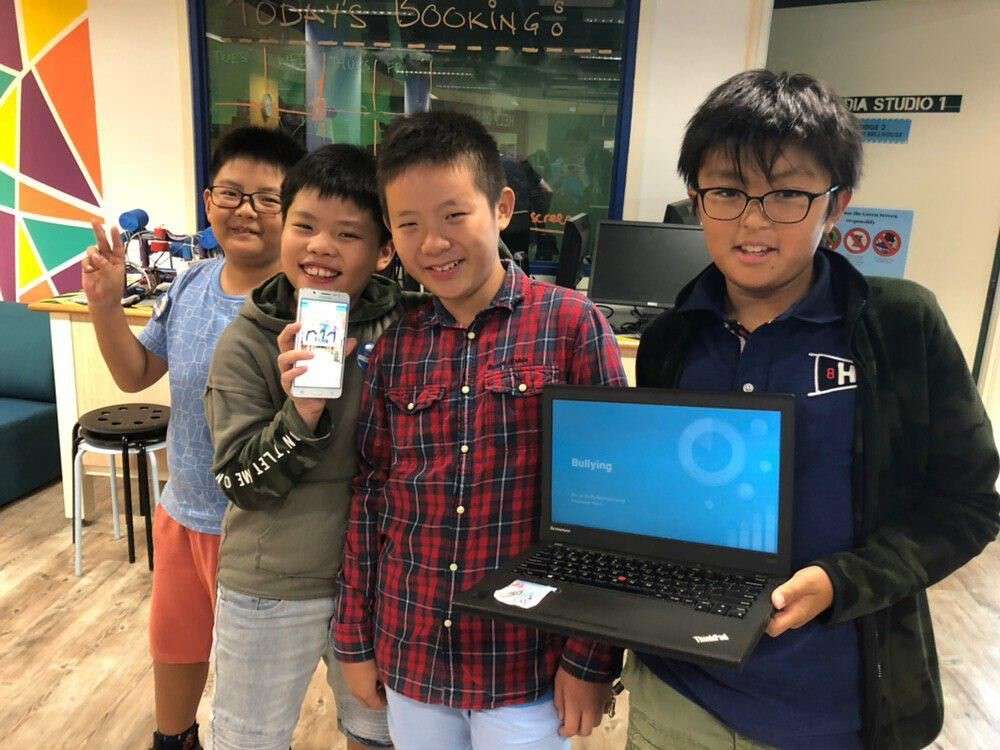 One of our teams with their final product, all ready to go.
Congratulations, teams!
We would like to take this opportunity to congratulate all participants on a job well done and team Roboteers for making it into the Top 8! We hope the winning teams enjoy the attractive prizes – which include micro:bits and vouchers – that we prepared.

While the competition proved to be challenging, it was a fruitful, rewarding and fun event that allowed the young coding enthusiasts to unleash their creativity. As Roboteers member 9-year-old Richard aptly puts it, "It's your own app, so you can do whatever you want. [You] can go really mad and creative about it [and] do really fun stuffs." Yes, that's the spirit!
3D-Tronics Digital Making National Infocomm Competition
About a week after The Microthon 2019, Roboto Coding Academy once again sent our Genius Coder Programme students to another competition. It was the 3D-Tronics Digital Making National Infocomm Competition, an annual competition where participants code and design their robots, and use the micro:bit to complete specific challenges in their groups.
The event was held at Suntec City Convention Centre across two days: 17 May for the Preliminaries and 18 May for the Finals.
Proudly representing Roboto Coding Academy in the Junior Category were three teams – Helperbot, Infinity Players, and Triple Three. Before the competition began, our student teams attended training clinics that focused on soft skills like teamwork, quick-thinking, pitching and presenting. The teams were also given training to hone their capabilities in optimising codes and documenting programming logic.
As the competition was themed "Digital Making for Good", teams in the Junior Category were tasked to design a smart vehicle that can assist disadvantaged individuals collect and deliver medicine or parcels. Our three teams participated in the Line Tracing Challenge in the Finals, where Infinity Players won the Best Timing in the category – congratulations, team!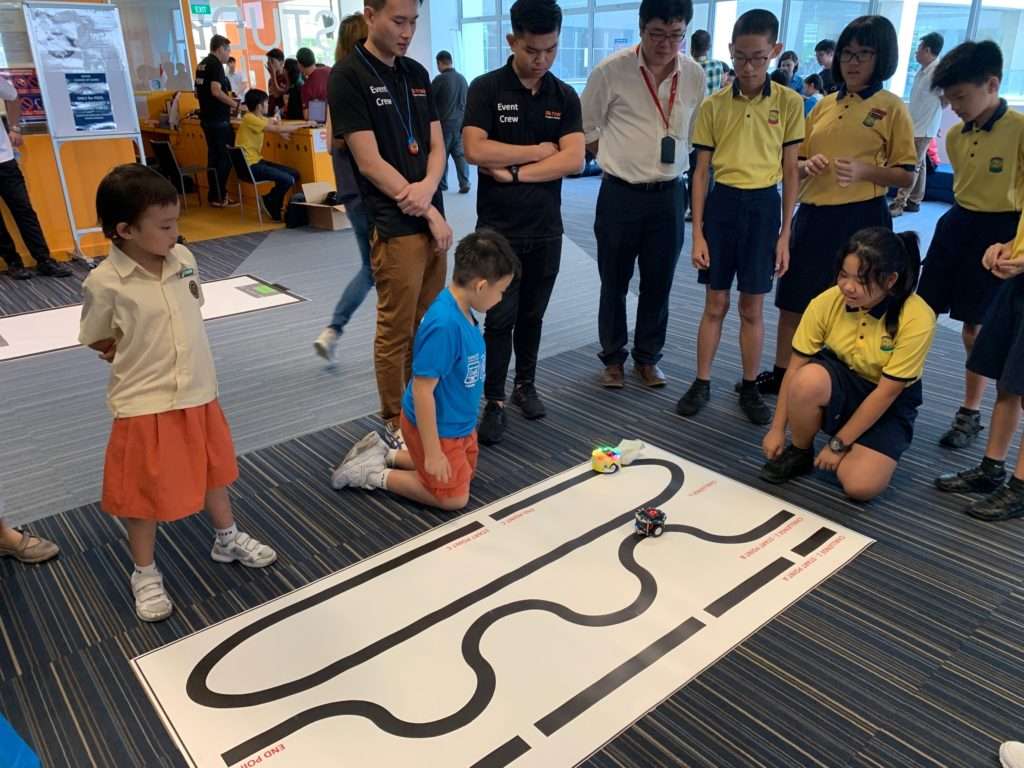 The proof is in the pudding – teams test their programmed smart vehicles at the Line Tracing Challenge.
It's showtime. Team Helperbot's visual aid for their project presentation.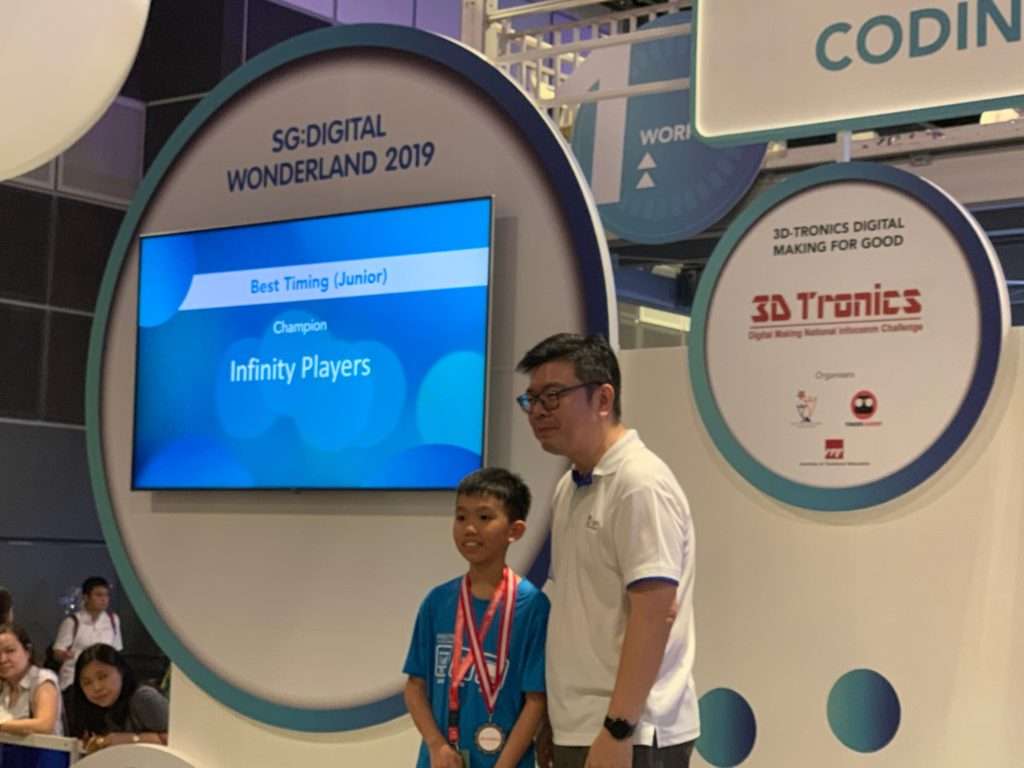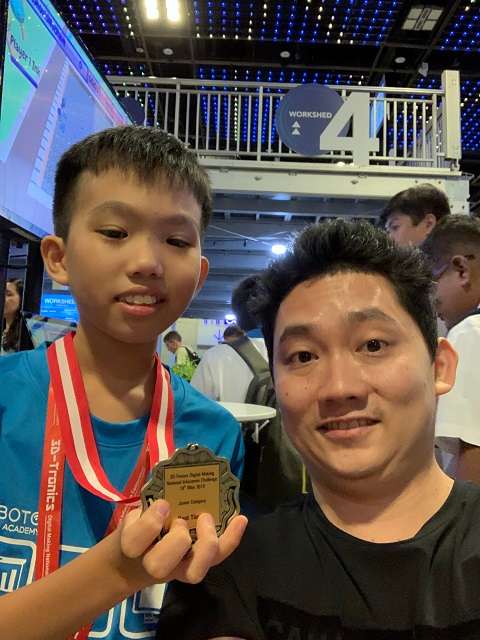 Team Infinity Players won Best Timing in the Junior Category!
It may have been an intense two days at the competition, but the challenges did not sway 11-year-old Karthirk, a team member of Infinity Players. Karthirk's takeaway from the event was a sense of accomplishment where he "manag[ed] to fix many things that did not work, especially the codes". Having participated in 3D-Tronics last year, the young coder said, "[I] invited my friend to join me this year" and would recommend to his friends to other similar competitions in future – and we can't help but agree with Karthirk.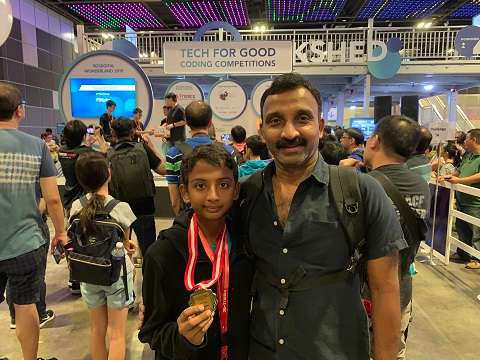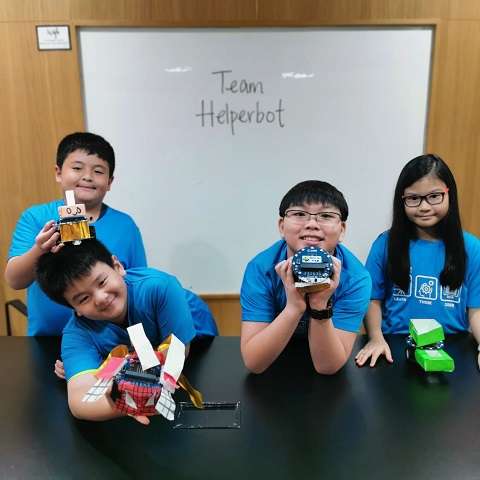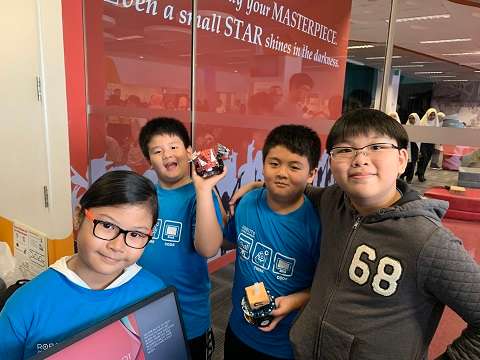 Like what you see? Your kids can code too!
If you've got a kid who would like to learn to code, do check out Genius Coder Programme – our academy's weekly coding lessons for children ages 6 and above. Your kids will be able to learn programming languages, like Scratch and Python, code with robots such as mBots and Dash, engage in Computational Thinking skills along the way, and take part in interesting competitions!
Subscribe to our mailing list and receive the latest news on coding workshops and other events where your kids can learn to code for fun.